Haven't made this yet...but I plan to do so...
Candy Corn M&M Fudge Brownies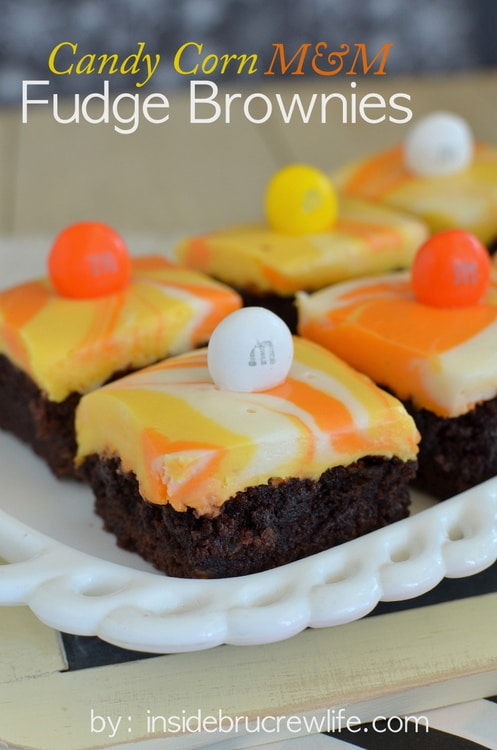 Brownies topped with a fun candy corn colored fudge and M&M candies.
Ingredients
1 brownie mix (for a 9x13 pan) + ingredients from back
3 cups white chocolate chips
1 can sweetened condensed milk (14 oz.)
1 cup marshmallow cream
orange and yellow gel food coloring (I use Wilton)
Candy Corn M&M's
Instructions
Bake the brownies in a greased 9x13 pan according to the box directions. Let cool completely.
In a large saucepan combine the chocolate chips and sweetened condensed milk over low heat. Stir until melted and creamy. Add the marshmallow cream and stir until creamy again. Divide the melted fudge into 3 glass bowls.
Use a toothpick to add a small amount of the gel food coloring to two of the bowls. Slowly add more color until it is the desired color. If the fudge starts to thicken, place in the microwave for 20-30 seconds. After you have the three colors the shade that you want, place each bowl in the microwave for 20-30 seconds and stir. Quickly drop spoonfuls of each color all over the top of the cooled brownies. After you have all the fudge spooned on, take a knife and swirl the colors. Do not swirl too much, or the colors will start to go together.
Chill in the refrigerator for at least 2 hours. Remove from the refrigerator and use a knife to score the top of the brownies into 72 squares. Place an M&M on each square. Let set for another 2 hours before cutting all the way through.
Read more at http://insidebrucrewlife.com/2013/10/candy-corn-mm-fudge-brownies/#7SjUdpWUOjm1e3gA.99